Message from the Chair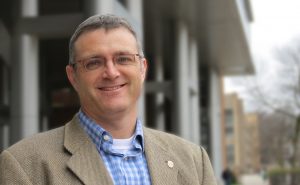 Standing in front of a class of eager (and masked) nuclear engineering seniors. Lunch with colleagues at the tables in front of Engineering Hall that were installed in spring 2020 and are a fabulous addition to our outdoor space. The return of the American Nuclear Society's Wednesday morning coffee and doughnuts, set up on our Engineering Research Building patio. A gathering of EP faculty, staff, and graduate students at a nearby park.
These are just some of the pleasures that I've enjoyed since the semester began, all a balance between the caution required by the COVID pandemic and the exuberance of beginning a new academic year.
Another theme of the last few weeks has been infrastructure, as our nation's policymakers debate the size and scope of investment in a variety of themes, including important advances in clean energy. Our department looks forward to contributing to a clean energy future with efforts across its many disciplines.
There is growing support for a continued role for nuclear energy, including excitement about micro-scale reactors that could change the conversation about nuclear energy. In a recent study, EP researchers considered ways that the U.S. government could kick-start the deployment of these new technologies.
Wind energy is one of the fastest-growing sources of electricity in the country, and Assistant Professor Jen Franck's research may shed new light on the design of wind turbine towers by adopting ideas borrowed from seal whiskers!
Late last year, the Fusion Energy Sciences Advisory Committee recommended a pivot to a more energy-focused program, while also recognizing a need to recruit a more diverse workforce to achieve that aim. Graduate student Carolyn Schaefer has formed a new student organization, Solis, designed to recruit more women and gender minorities in the plasma physics fields at UW-Madison and better support them as they develop into the next generation of fusion scientists and engineers.
There have also been somber moments at the beginning of this semester. Late in the summer, Professor Emeritus Max Carbon passed away. He founded and led the nuclear engineering department for 34 years and built an enduring legacy both within the department and throughout the nuclear engineering community. More recently, we learned that alumna Mary Baker (BSEMA '66), a visionary and inspirational leader in aerospace engineering, also passed away in early September. She was a longtime member of our Industrial Liaison Committee and always had important insight and wisdom to share. At the time of her death, Baker was a technical director and board chairman at ATA Engineering, a San Diego testing and analysis company she co-founded in 2000. Her work influenced the design of the International Space Station, and she oversaw ATA's involvement in the testing, analysis and design of two generations of Mars rovers developed by NASA's Jet Propulsion Laboratory. ATA's efforts helped ensure the successful Mars landings of the Curiosity rover in 2012 and the Perseverance rover in 2021.
Fall in Wisconsin offers many good reasons to return to Madison and visit campus, whether you are interested in Badger football, corn mazes and pumpkin patches, or taking in the leaves as they change color. If you find yourself in Madison, we hope you'll stop in and visit us, too.
On, Wisconsin!
Paul Wilson
Grainger Professor of Nuclear Engineering